This award-winning work of narrative nonfiction is a raw and haunting account of one girl's journey through madness, loss, and a broken child welfare system in Los Angeles in the 1980s.
Seven-year-old Leslie has a problem. Someone is trying to kill her.
Her mother Roberta suffers from paranoid schizophrenia, writes rambling manifestos, and forces her children to live on the run to evade capture by the Russian spies she believes are after them. With every psychotic break, Leslie and her younger brother face terrifying circumstances despite the fact that Roberta's only wish is to protect them. Who will help them when she is convinced that killing them will save them from a worse fate?
When separated from her family and thrust into foster care for the foreseeable future, Leslie navigates a new kind of fear and loneliness. All she wants is to be loved, but how can her mother ever love her when she is so far away? How can she love her now that Leslie has betrayed her in so many ways? Will Leslie ever see her again?
Ultimately, Leslie remains at the mercy of the adults in her life who can effect change, and she wonders if she will ever find a safe place to land. Nobody will talk about her mother's mental illness, and nothing seems to be able to fix her dysfunctional family. But her sixth-grade teacher gives her hope every day, so Leslie pretends she is—and always has been—her daughter.
An unbelievable true story of grit and heart, When I Was Her Daughter is, at its core, a tale about how the redemptive power of patience and courage leads to unconditional love for a lost and angry child desperate to understand where she belongs.

Readers' Favorite International Book Awards 2023
Non-Fiction/Memoir Gold Medal
Outstanding Creator Awards Winter 2023
Best Non-Fiction Book, 3rd Place
Family, 1st Place
Autobiographies& Memoirs, 2nd Place
Women's Non-Fiction & Women's Issues, 3rd Place
Motivational/Inspirational, 3rd Place
2023 PenCraft Winter Seasonal Book Awards
Winner–Memoir
2022 Firebird Book Awards
Coming of Age, 1st Place
Parenting & Family, 1st Place
Psychiatry/Psychology, 1st Place
The Memoir Prize for Books 2022
Winner—Resilience
"When I Was Her Daughter tells a powerful tale of trauma, survival and the redemptive power of love. I could not put Leslie Ferguson's riveting, vivid, excruciating and beautiful story down."
"Shocking, heartfelt, and filled with beautiful prose, this tragic tale is an arresting reflection of forgiveness, strength, and love."
"Honest and beautifully crafted, this book will leave you crying and also applauding."
"Leslie's writing is impeccable, well-edited, and complex. Just a lovely book, one that I've recommended to friends and family and which has a permanent spot on my shelf."
"The writing here is strong. Straightforward. Introspective. The author's personal successes and this writing—a testament to the beautiful way love can heal even the most broken."
"This memoir contains experiences almost everyone can relate to at some level, whether you've ever ached for a parent's love and attention, questioned your own perceptions, or searched for a path to forgiveness."
"Somehow, and this is her magic as a writer, without artifice she cultivated hope within me as a reader. It was there in her words, even as she shared her greatest struggles. Masterful!"
"Leslie has a wonderful way of writing. She writes so you feel her feelings, she tells her traumatic story without any blame, and she shares how her transition to a happy life was not easy for her or her new mother. This memoir is so super rich with love, I highly recommend everyone read it."
"Heartbreaking at times, but ultimately a story of triumph. Honestly and beautifully written. 5 stars"
"This book is well written and left me feeling uplifted. The author's story made me marvel at her courage and resiliency. I loved the book so I bought a copy for a friend as a birthday gift."
"I could not put this book down. The bravery and undying love of these children will stay with you forever."
"As I read Leslie's book, it stirred my memories of being in the system. I commend Leslie for capturing the emotions that the majority of us foster kids feel. Those emotions and feelings of emptiness from moving around, not being loved, having to leave friends, and having to be on guard all the time."
"I recommend this book to everyone, especially those who work with children and those in the foster care system. A powerfully moving book."
"This is a book I couldn't put the book down. Leslie Ferguson is a gifted storyteller who has written a compelling memoir that kept me on the edge of my seat. "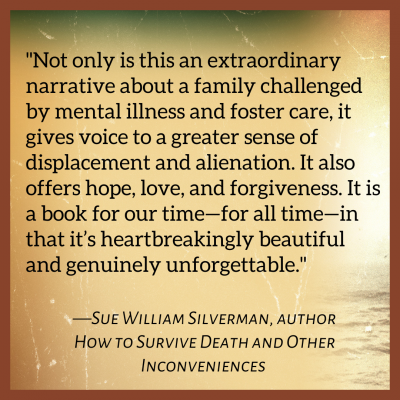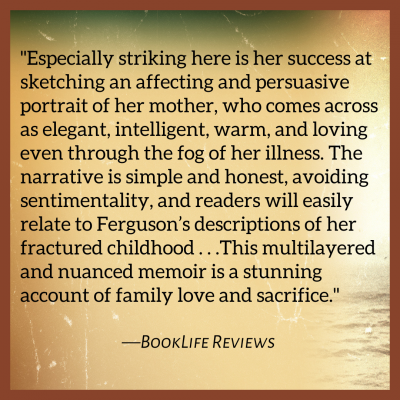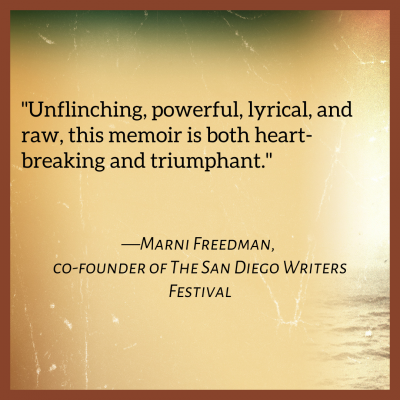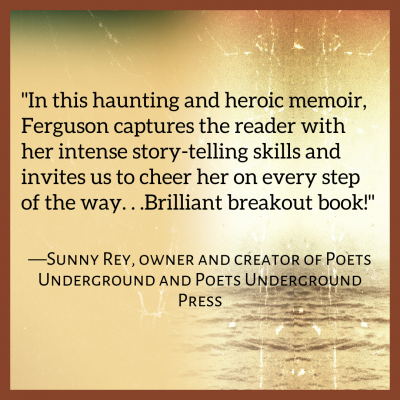 Also available from other online retailers
and by request at your favorite brick-and-mortar bookstore.